Motocal only uses the highest quality templates, which have all been tried and tested.  Motocal only uses the best techniques to collect our motorsport vehicle templates so they fit perfectly to the vehicle. We are constantly adding to our database.  If you want a specific template, feel free to send us an e-mail info@motocal.com and we will do our best to add it to our database. 
If we do not have your rare kart, quad, ski, snowmobile, car, bike or vehicle in our database we have approximate decals that will fit your vehicle.  Over the years we have noticed that certain vehicle (e.g. motocross, utility ATV,…) have very similar shaped decals.  This got us thinking that we can provide you with a decal that will fit pretty closely with a bit of trimming.  When designing these decals for your bike, kart, ski, sled, car or quad be aware of the general shape of the plastics so to design knowing where you will need to make cuts and trims to the decal so you are not removing part of the design.
When you have selected a generic decal kit – You will be warned with a message to indicate :
WARNING: These decals are not for a specific make or year. They are general decals sized to fit many vehicles

When you reach a kit with generic decals, it is advisable to
(1) Understand and measure the panel sizes of your vehicle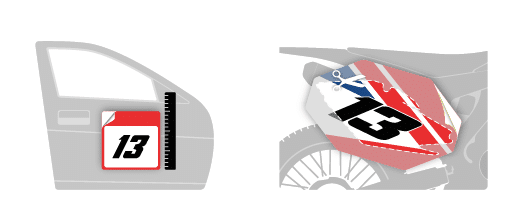 (2) Pick a decal that fits your vehicle, and then can be trimmed to fit.

Note: Previously you may have seen an warning like this – this warning screen has now been removed

This Video shows you how to select alternative decals in different shapes and sizes
If you would like us to source your templates reach out to use at info@motocal.org
ORDER NOW & SHIP FREE TODAY
Design your graphics online today and Motocal will ship them for free today to you.