Motocal has over 40 years of print and design experience.  We don't take risks with untested materials.  Each of our materials goes through extreme tests before we consider using them for our customers. We know what you expect from them and what they have to endure.  We only offer suitable materials so you can't go wrong.  It only comes down to your preferences whether you prefer Thick, Medium or Thin decals and then select your finish: Matte or Gloss. 
Below we break this down into 2 sections:
Motocal's Material - By Name and Characteristics:


Motocal MX Thick – This is a thick durable decal designed specifically for extreme motorsports vehicles.
Motocal MX Medium – This is a thin durable decal designed specifically for extreme motorsports vehicles. It can take less abuse than it's thicker counterpart but still offers incredible durability.
Motocal Thin – This is a very thin vehicle graphic that's perfect for those complex curves you'll find on road bikes, jet skis, and snowmobiles.  This will leave you with stunning graphics and really enhance your vehicle.
Motocal MX Thick = 533microns = 0.533mm = 20.98mils
Motocal MX Medium = 395microns = 0.395mm = 15.55mils
Motocal Thin = 160microns = 0.160mm = 6.30mils
Characteristics Explained
Within the Thick, Medium & Thin options, Motocal has 6 important materials criteria for our decals. These 6 characteristics are:
1. Durability – The amount of abuse a decal can take from e.g. flying stones, hitting trees, other vehicles, etc.
2. Fitting Ease – How easy it is to fit the graphics to your kart or bike.
3. Life Span – How often they will need replacing.
4. Removability – Level of ease to remove from your vehicle.
5. Thickness – Level of decal thickness to protect your kart, quad, atv, sled, ski, bike or car in extreme environments.
6. UV Protection – Level of UV protection decals offers. This keeps your graphics looking vibrant race after race.
We rate our characteristics on a 0 to 5 scale.
For example, Motocal MX Thick has a thickness rating of 5, indicating maximum thickness and Motocal MX Thin has a durability rating of 2 out of 5, indicating that it will take some abuse e.g. stones, mud, etc.
Motocal's Material - By Name and Characteristics:
To the top right of the screen, you will see a button for "Materials". Selecting this will allow you to choose from the available materials for your vehicle type.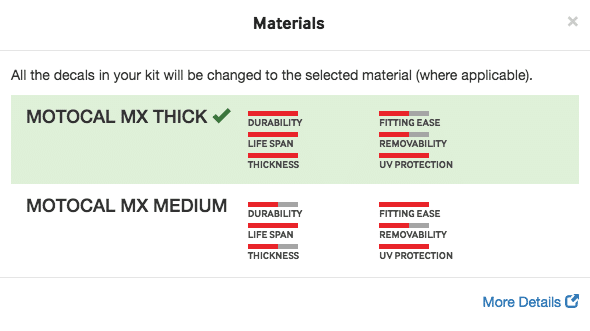 We offer two types of finish to your materials on Motocal:
Glossy: a bright, shiny finish adding a gloss-like finish to your decals.
Matte: a more dull, flat, non-shiny finish to your stickers
Glossy: enhances bright colours and designs even further. Reds, blues and yellows receive an extra vibrant tone using glossy finishes.
Matte: works well with darker colours of Blacks, Greys, Charcoals and Browns to offer a flat dull look that accentuates these colours significantly.
If you need more advice on our materials you can contact us here
ORDER NOW & SHIP FREE TODAY
Design your graphics online today and Motocal will ship them for free today to you.